With the 2020 Major League Baseball Draft just a month away, we're hard at work preparing a plethora of draft content here at The Chicago Dugout. We've already released our White Sox mock draft this morning; now we turn our focus to the Northside.
Before the COVID-19 pandemic threw a wrench into pretty much everything, it was understood this would be an important year regarding the Cubs draft approach. The front office was revamped in nearly every aspect this off-season, with scouting and player development realizing the most significant changes. Jason McLeod transitioned from heading the scouting department to the role of VP of Player Personnel, shifting his focus to the Major League roster and transactions. While the Cubs drafted quite well under McLeod's guidance on the position player front, their pitching development via the draft has been abysmal. McLeod's transition likely serves as a desire to bring in a fresh voice for scouting while keeping McLeod's innovative approach within the front office.
Replacing McLeod is Dan Kantrovitz, who will be running his first draft for the Cubs. Kantrovitz has plenty of experience in lauded front offices, specifically with the Cardinals (Director of Scouting) and most recently with the Athletics (Assistant GM). Kantrovitz has a track record of solid pitching scouting, including the selection of Jack Flaherty with St Louis, and top-prospect A.J. Puk with Oakland.
The long-term impact of Kantrovitz remains to be seen, and like McLeod, he's viewed as a future GM. For now, however, his presence with the Cubs clearly signals a change in draft approach — meaning I think the Cubs will have a pitching-heavy draft in 2020. Although drafting pitchers high in the draft is a notoriously volatile (and therefore risky) endeavor, the dearth of pitching prospects in the Cubs farm system necessitates risk with regard to pitching. I think Kantrovitz was brought in specifically for this reason, and I expect that to be reflected in the draft come June.
With the draft having 35 rounds lopped off as a result of the pandemic, the Cubs, and the rest of the league are left to only five selections. Here's a quick list of things to know this year:
Five round draft
Will take place on June 10, 2020
Players not drafted can sign with any team as an undrafted free agent, starting June 13, 2020
Teams can use their allotted money as they see fit to sign their draft picks
Undrafted signees will be limited to a bonus of no greater than $20,000 (previously, undrafted signees were able to sign for bonuses of up to $125,000 without the signing team incurring pool penalties)
Draft signing deadline will be August 1, 2020
Here's the breakdown on the Cubs pick-by-pick slot allotment:
Round 1, (16) – $3,745,500
Round 2, (51) – $1,436,900
Round 3 (88) – $678,600
Round 4 (117) – $492,700
Round 5 (147) – $367,900
Now let's get to the good stuff. Here's my 2020 five-round mock draft for the Chicago Cubs.
Jared Kelley (RHP), Refugio H.S. (Texas)
With the No. 16 pick in the draft the Cubs buck the trend of high-profile bats in the first round, and select prep standout Jared Kelley out of Texas.
Admittedly, Kelley may not be available at 16, but in a draft class that is ripe with great college arms and prep arms alike, it'll be like a game of roulette guessing where the starters fall. I've a feeling Kelley's inconsistency with his curve will keep him out of the top ten, and he'd be a steal for the Cubs at 16.
This is a gamble, as all prep arms in the first round are, but Kantrovitz is going to show aggression in the draft with regard to pitching and it'll start at pick 16.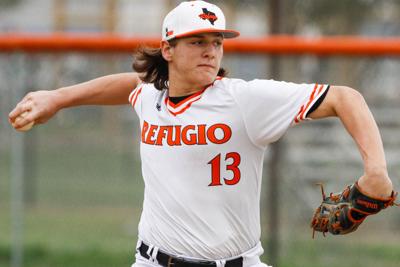 While the Cubs did buck the position player trend in the first round last year, Ryan Jensen was a polished college arm with a high-floor/low-ceiling that projects a potential future in the bullpen. Kelley is a high-ceiling prep arm with an upper-90's fastball and the promise of developing his secondary offerings. He also has the physical frame that promises durability, and of the available prep arms he's perhaps the most MLB-ready.
---
Daxton Fulton (LHP), Mustang H.S. (Oklahoma)
The Cubs stick to the pitching-heavy plan in round two, nabbing another high-profile prep arm that could very well front the rotation in the near-future.
At 6'6″, 225 lbs., Fulton has a classic physical build that scouts find easy to project. His fastball sits in the low 90's, with developed secondary offerings that make him a high-ceiling arm.
If not for Tommy John surgery Fulton would likely be a first round pick, perhaps even in the top ten. The success rate of TJ, however, coupled with Fulton's projection, makes him a worthwhile gamble — further cementing the Cubs plans of taking high-ceiling SP's at as minimal a risk as possible.
---
Clayton Beeter (RHP), Texas Tech
The Cubs stick with pitching yet again, only this time drafting a high-risk/high-reward arm out of the college ranks in Clayton Beeter.
Beeter has a solid build (6'1″, 205 lbs) and is a few years removed from Tommy John surgery. His draft profile is inconclusive, with an inconsistent 2019 season and a promising start to the 2020 season the only evidence of what he might become.
After his redshirt freshman year he became the team's closer in 2019, before transitioning to a starter in 2020. Control issues belied his '19 performance, but an upper 90's fastball and glimpses of durability make him a viable starter with upside — the perfect combination for the Cubs in the third round.
---
Zavier Warren (C/SS), Central Michigan
The Cubs deviate from pitching in the fourth, nabbing an intriguing prospect that — shockingly! — has proven versatile in college.
There's a lot to like in Warren. A switch hitter that can literally play all over the field, it wouldn't be shocking if he sticks at catcher, at shortstop, or as a super utility player in the mold of Ben Zobrist.
Warren's hit tool promises gap power more than home run prowess, and while he's not particularly fast he was 17-18 in stolen base attempts at CMU. Warren gives the Cubs position player versatility, with a chance to be an almost-everyday-starter-slash-utility-type in the near-future.
---
Tekoah Roby, Pine Forest H.S (Florida)
Roby was a name on the rise before the 2020 prep season was shut down. Like other prep arms on this list, he is a college commit (Troy), but his upside is plain as day and is a worthy gamble for the Cubs in the fifth round.
Per Baseball America, Roby has displayed an impressive spin rate on his fastball, and promises the potential to improve his curve while already featuring a solid changeup.
Roby is the biggest gamble in my mock draft, with an unknown ceiling and inconclusive track record, and although he could be selected in earlier rounds the lack of a 2020 season might scare teams away.
To me, Roby is a smart gamble; he has the projection, tools, and pitch arsenal that can help him quickly become a Top 100 prospect.
---
My plan of attack for the Cubs in the draft was simple: select high-upside, starter potential arms irrespective of prep or college standing. The arms taken also come with minimal risk, inasmuch as mitigating risk is possible. Post TJ surgery health and effectiveness is no longer a concern for Fulton or Beeter, and the potential to be tapped into from Beeter (college arm with little starting track record) and Roby (a prep arm whose rise was cut short in 2020) is impossible to ignore.
The Cubs are counting on Kantrovitz to revitalize the arms in a farm system long-notorious for having inept starting pitching. His test begins in June, where taking calculated gambles is a dangerous — but necessary — game.
My mock draft reflects that need for pitching, acknowledging the inherent volatility of arms early in the draft. I selected players that 1) might realistically be available, 2) concede that aggressive evaluations of a pitcher's ceiling may backfire, and 3) attempt to snag pitchers whose potential may not yet be fully apparent, with a general consensus from scouts that they project well.
The Cubs need pitching. Even if my mock selections are entirely inaccurate, I'd be surprised if the Cubs take a bat in the first, or if they draft fewer than three starting-potential pitchers.
Regardless, June 10 can't come soon enough.
---
Be sure to follow us online and across social media at the handle @ChicagoDugout for all of our comprehensive 2020 MLB Draft coverage both live, and upcoming!