I had the opportunity to speak with Central Michigan skipper Jordan Bischel on Tuesday afternoon, and I learned a few things about Milwaukee Brewers' third-round selection, Zavier Warren.
I also learned that Zavier will have a fan in Bischel moving forward, beyond that of a college coach pulling for one of his former players. Jordan Bischel grew up in Green Bay, Wisconsin, and is a life-long Brewers fan.
"I was at the game where Robin Yount got his 3,000th hit," Bischel said. "I'm as big of a Brewers fan as there is, so it was pretty fun for me to see them take him [Zavier], and I think he's a pretty good fit."
Zavier Warren's breakout season that really put him on the map came in 2019 under Coach Bischel's first season as the head coach of Central Michigan. As a sophomore Warren led the Mid-American Conference in on-base percentage (.502), runs (73), doubles (23) and walks (54), and was second in hits (90) and RBIs (70).
Warren was in the top 10 for batting average (.369), home runs (8) and slugging percentage (.578). In the Cape Cod League last summer, Warren hit .315 with three homers and 24 RBIs through 42 games.
"His sophomore year really put him on the radar," Bischel said. "That's when a lot of the conversation and questions started, and then for him obviously going out to the Cape [Cape Cod League] is a big leap for anybody, but for a mid-major guy you really get a chance to show that the numbers you're putting up and the success you're having doesn't really have anything to do with the level of competition, but more to do with the type of player that you are."
Despite falling to the third round in last week's Major League Baseball draft, Coach Bischel said that there were a large number of teams scouting, and interested in what Warren brings to the table.
"It was obviously a really weird draft," Bischel said. "But I think what was really encouraging for Zavier is the number of teams that really had a high interest in him. I think where that came from is A. how consistent he was — you know, he was always a producer everywhere he played — and B. was his versatility — whether it was catching, whether it was middle-infield or third base."
While Warren has played a bevy of positions at Central Michigan, the Brewers announced him as a catcher on Thursday evening when they took him. Coach Bischel said that while Warren only caught four games for him during this shortened season, he looked like a natural while doing so.
"He caught really well for us," Bischel said. "He caught against Arizona, and Arizona had two catchers drafted (Austin Wells No. 28 – NYY, Matthew Dyer No. 120 – NYM) in the first four rounds, and on that weekend when he caught with those guys, you would have thought he was a pretty natural catcher.
But despite Warren looking good behind the dish, Bischel insists that any team looking to limit Warren to a single position when he enters their system would be doing Warren, and themselves a disservice.
"I think you're making a mistake by trying to figure out what his single position is."
Both Bischel and the Brewers agree, that Warren's top priority will be focusing on developing his bat — at least early — and letting the matter of where he plays on the diamond figure itself out along the way.
Bischel believes that Warren going to Milwaukee, with the opportunity to one day play under Craig Counsell, is an ideal scenario for both sides.
"What I love about the Brewers, and what Craig does with that team, is he's incredibly innovative. If you watched what they did with Travis Shaw and Mike Moustakas, people thought that he was completely nuts, but it worked just fine and helped put them in the playoffs."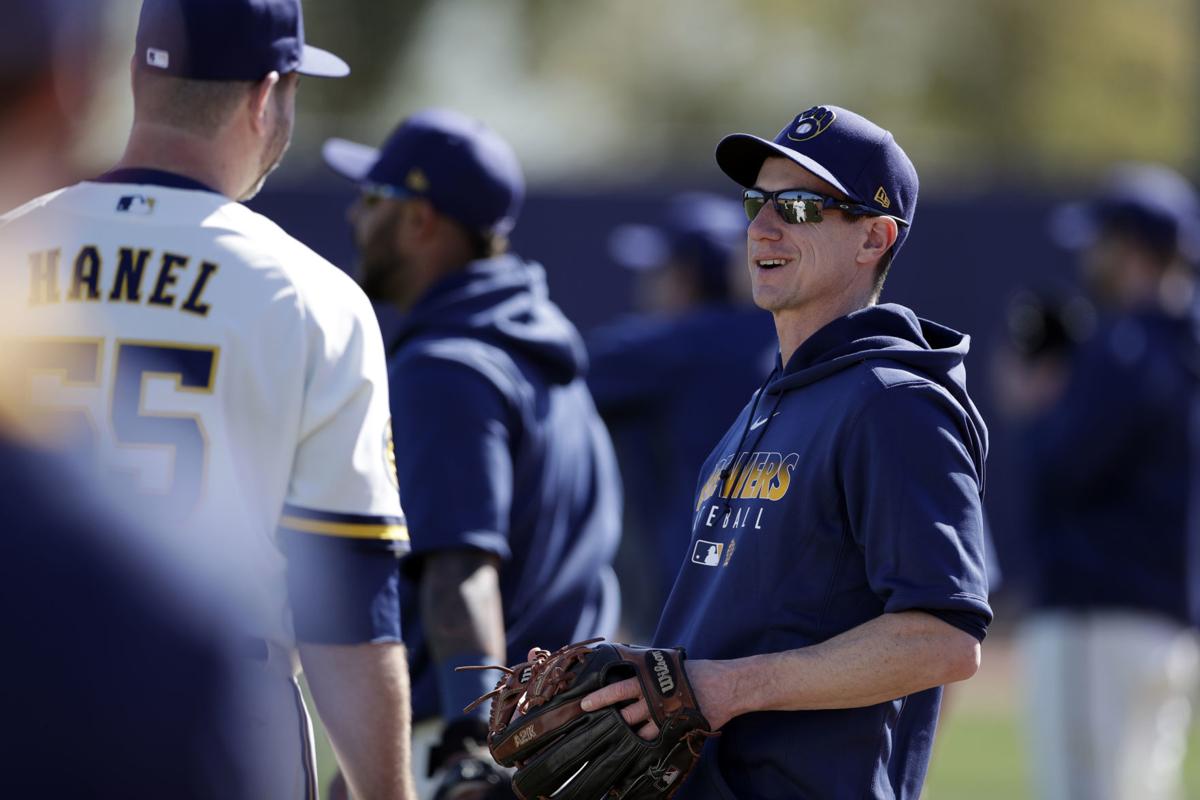 Photo: Gregory Bull – Associated Press
"I think Zavier can feed right into that, where he can fit into a creative lineup. He can help fill a hole and do some things."
"To me, that's the value there. If he hits, there going to be a spot somewhere defensively where he can help you win."
One thing that will go a long way towards Warren's bat making the jump to the next level will be increased power numbers. Coach Bischel said that the shortened season cost Warren a chance to showcase some pop in his bat that was really coming along very nicely.
Coach Bischel said that he really thinks that Warren will fit in nicely in the culture that Craig Counsell has built in Milwaukee, and raved about Warren's ability to never miss a rep in practice as a reason to believe that he can continue developing at the next level.
Overall, as a Brewers fan, Bischel was happy about the Brewers' draft class. He even had a strong compliment to pay towards Brewers' second-round pick, Freddy Zamora.
"We had a chance to play Miami in the regional last year, and on a good day [Freddy] Zamora is as good of a shortstop as you will ever see," Bischel said. "I know the numbers weren't always there, but the way he played against us, my god. That kid's got some ability, and that's exciting for the Brewers."
---