One of the consistent rumblings this season in the universe that is White Sox Twitter has been regarding the construction of the White Sox lineup.
When asked about Tim Anderson being re-inserted into the top spot in the Sox lineup when he comes off the Injured List, White Sox skipper Ricky Renteria made it clear that's going to be the case, at least for now.
"I still consider Timmy our leadoff guy. And we'll find a way to continue to adjust the lineup a little bit. We'll see how Timmy's feeling after his stint over in Schaumburg. … Once he comes back, see where he's at. I've got to talk to him and see how he's doing and then figure out where I'll insert him. But right now, if the question is, 'Will I insert him at the top of the lineup?' my answer to you right now is yes.
"I still plan on inserting him at the top of the lineup. If that's enough to give everybody some fodder and some conversation and question: 'Why would I do that?' Well, he's a pretty good hitter, and he's done pretty well for us up there."
So, that settles that. Quite frankly, that's not even an issue right now, at least as far as I'm concerned. What is an issue for me, is Jose Abreu continuing to be a seemingly permanent fixture in the three-hole. It's a good thing Renteria said he doesn't mind his lineups being scrutinized because I'm going to do that today.
"I'm glad that I have the problem of lineup construction. I'm glad that all of you have the opportunity to discuss lineup construction because that means that the Chicago White Sox are in a great place," he said. "We might not always agree on where I put things, as I'm told many times. … I'm not really a big follower of a whole lot of things, but I'm told many times. 'Why'd I do this?' or, 'Why'd I do that?'
"And that's great. I love the fact that people are conversing about the Chicago White Sox in that manner because that means we have significant pieces. And I'm very thankful for that, to be honest."
That's a great point, you do have significant pieces, Rick. So why do you insist on hitting them in the bottom half of the order? I've said it a handful of times both here and on Twitter, Eloy Jimenez should be hitting in the third spot in this lineup.
I had a nice conversation — that ended in us agreeing to disagree — with a Twitter user you all might be familiar with, King Mac. If you're not, check him out (@KingMac1129), because despite us not seeing eye-to-eye on this one, he's a great Sox follow.
In that conversation, he felt like those pining for Abreu to be dropped down in the order were disrespecting him, and what he's endured through the thin years on the Southside. Whereas I believe that it's not disrespectful to want the best lineup possible on the field, loyalty, and feelings aside.
I'll preface this all by saying that I love Jose Abreu as a ballplayer, he's been rock-solid, dependable, loyal, and just overall a special treat for us over the last six years plus. But, Jerry Reinsdorf and company rewarded him for his unwavering loyalty last November with a new three-year, $50 million deal. He deserves every single penny of that deal. This isn't an argument regarding whether or not Abreu should be on the team, because there's no question that he can still perform and be a big part of this team's success.
This is a question of lineup optimization, and getting the best out of all of your talent.
Don't let the two clutch hits in the wins in Milwaukee fool you about this year, and try to look past the fact that Jose Abreu's 223 game-tying or game-winning hits since he burst onto the scene in 2014 only trails Nolan Arenado for the top spot in that category over that timespan.
Why? Because that's the past. A team with this level of talent, who fancies themselves a playoff contender, simply can't live in the past. The future on the Southside is now.
Jose was clutch in the past. In 2020, not so much.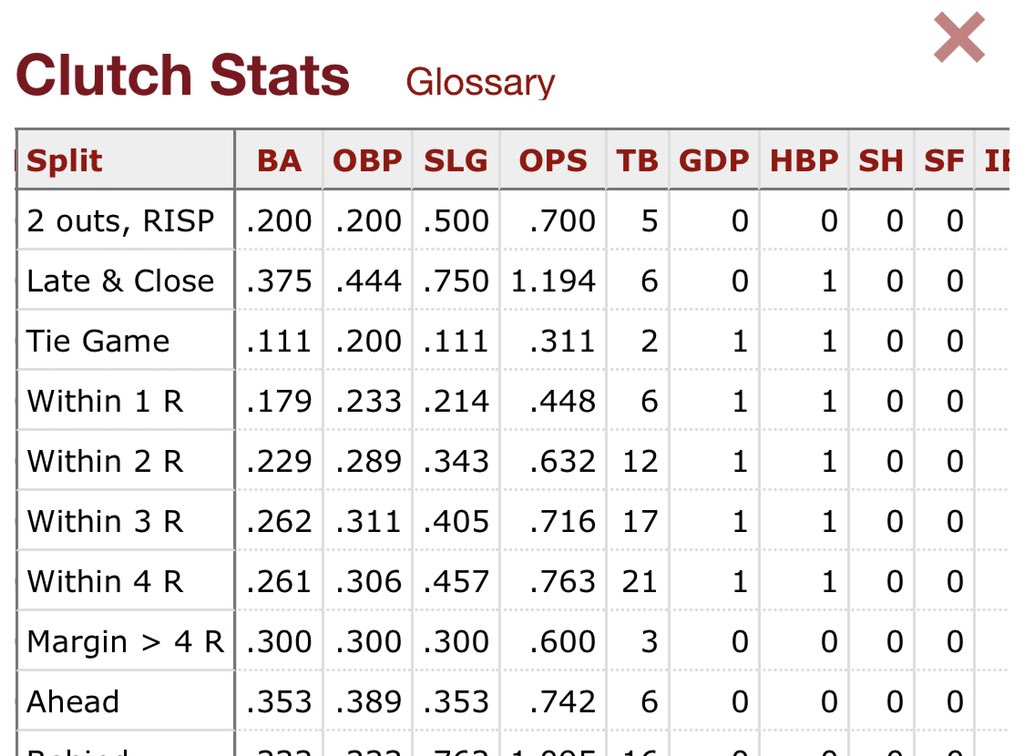 As you can see, Abreu has a .200 batting average and on-base percentage when hitting with two outs and runners in scoring position.
In tie games with RISP, Abreu is hitting .111. In games that the White Sox trail by four runs or less, the numbers are fairly underwhelming across the board, and even decrease as the game gets tighter.
As Steve Paradzinski pointed out on Twitter today, when comparing Eloy Jimenez and Jose Abreu's run production this season, there's no comparison aside from the RBI number alone. Take a look at the numbers below, knowing that 'Player A' is Abreu, and 'Player B' is Jimenez.
Looking behind the old RBI counting stat, it's not even close. Jimenez has been the more productive of the two with runners on base in landslide fashion.
With runners in scoring position, Abreu has a ground ball rate of 69 percent. That's an out (or in some cases, two) nearly seven in ten times Jose Abreu hits with runners in scoring position. That's simply unacceptable.
We know that as the years progress, Abreu struggles more and more with right-handed pitching, and again putting your feelings aside, if you're watching every ballgame you're noticing the massive amount of ground ball outs Abreu has been generating.
It's just a fact, and if you're denying it, you're lying to yourself.
Another great White Sox mind, Patrick Nolan articulated these numbers — and more importantly why the RBI stat is misleading — in even greater detail this afternoon. Take a look.
Take notice of the 21 runners on first base this season when Abreu steps to the plate. In 2019, in a year where he led the league in RBI, he also grounded into a league-leading 24 double plays. These are absolute rally killers, and they just can't be this big a part of the White Sox offense today, or in the future. Abreu's ground ball rate is just too high to continue on with him in the three-hole.
In 2020, Eloy Jimenez's xwOBAcon (xwOBA of just the contact) is .544, which is in the top five percent of the league. What that means is, when Jimenez makes contact his estimated weighted on-base percentage is inside of the top five percent of Major League Baseball. By comparison, Abreu's is at just .393.
Jimenez's exit velocity (93.6 mph) is in the top four percent in baseball, and his barrel rate (23.3) is in the top two percent of baseball.
In layman's terms, Eloy Jimenez produces far more damage on contact for oppositions than Jose Abreu does, and that's why he needs to be hitting third in this lineup.
Chicago sports fans are some of the most rabid and passionate sports fans there are, but like all other groups, they have flaws. One of those major flaws is the tendency to over-value past performances over current ability, regardless of the numbers in front of them. Saying that Jose Abreu shouldn't be hitting third isn't being disloyal, it's being smart.
---
Featured Photo: Rick Osentoski-USA TODAY Sports
---