It feels like it's been months since the Cubs bowed out of the 2020 MLB Postseason. While the result was downright abysmal, the lack of offense produced in a two game sweep at the hands of the Marlins should have surprised precisely no one. Alas, it has now been over a week, which means the time is ripe for digesting and evaluating individual performances this season.
The Cubs' offseason has already produced a bit of drama. Yet another hitting coach may be on the hot seat, Theo Epstein's end-of-season presser yielded sentiments we've all heard before, and the Cubs are staring down a crossroads of four members of the core in contract years (including Epstein himself), frustrating underperformance in 2020, and a continued budget crisis fabricated by the Ricketts family.
Today we are going to focus on Position Players. (In case you missed it, you can catch our Pitcher report cards here.) Please keep in mind that my grading scale isn't merely about a player's season numbers, but how those numbers reflect pre-season expectations, assumed role, and overall impact to the club.
Note: Only position players with at least 60 plate appearances, and pitchers with at least 10 appearances (or two or more starts) will be considered. Additionally, only players that finished the season in the organization will be evaluated.
---
Infielders
Willson Contreras (C): .243/.356/.407, 7 HR, 109 wRC+, 1.6 fWAR
Willson was one of the few bright spots for the Cubs on the position player front. His wRC+ suggested he wasn't terribly better than league average, and he also walked less, struck out more, and hit for a lower ISO than career averages. But that slight regression is essentially where the negative assessment ends.
Long criticized for his pitch framing, Contreras suddenly became one of the better backstops in the game in 2020 in that department (per Fangraphs). This is especially telling, as in 2019 his -8.9 FRM metric with Fangraphs ranked 64th out of 68 eligible catchers. In 2020, his 1.7 FRM was good for 11th out of 34 qualified backstops, and his overall DEF metric (6.5) was fourth best at the position.
Coupling his newfound defensive acumen with decent power numbers (seven home runs) and a sturdy .356 OBP, Willson was one of the few threats in this lineup — and one of the team's most valuable contributors.
While this wasn't a career year by any means, it was a damn good one, and should his defense continue to improve, and his offensive positively regresses, the very best of Contreras is likely yet to come.
Grade: A-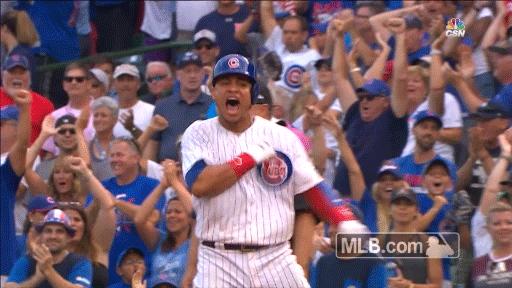 Victor Caratini (C/1B): .241/.333/.328, 1 HR, 84 wRC+, 0.2 fWAR
Most of the fan vitriol concerning the Cubs' offense in 2020 was directed at the Core, and understandably so. Lost in that, however, was a steep decline in production from Victor Caratini.
After a sturdy 2019 campaign (.266/..348/.447) Victor's power was absolutely sapped in the pandemic-shortened season. Out of the 244 hitters with 130+ at-bats, Victor's .328 SLG ranked 226th. He still reached base at a decent clip, with acceptable walk and strikeout rates, but his inability to drive the ball with any authority debilitated his offensive impact.
As Yu Darvish's personal catcher, Caratini deserves an immense amount of credit — and his performance behind the dish salvages his season grade. This has been a terrific duo together, and we'll likely see that trend continue as Caratini won't reach free agency until the same year (2024) that Darvish's contract expires.
Grade: B-
Anthony Rizzo (1B): .222/.342/.414, 11 HR, 103 wRC+, 1.1 fWAR
Rizzo certainly didn't have a banner season, but unlike other members of the Core, his underlying metrics aren't worrisome. Still displaying solid power numbers (Rizzo's 11 bombs suggest ~30 over a full season), Rizzo actually walked slightly more and struck out a hare less than his stellar career norms. He was also considerably unlucky, producing a .218 BABIP markedly below his career (.286) and league (.292) averages.
Curiously, Rizzo hit the ball on the ground less, while pulling the ball more, than his career averages — but neither to a significant degree, and with a hard hit percentage in line with his career expectations. I'm not sure what these numbers suggest, but they're worth noting.
I'm not going to pretend The Captain was amazing this year; I am, however, suggesting that his power and peripherals were solid and he deserves that much. Bad luck, more than anything else, appears the main culprit for his slight offensive regression.
Grade: B
Jason Kipnis (2B): .237/.341/.404, 3 HR, 102 wRC+, 0.6 fWAR
Signed to a minors deal before the season, Kipnis was one of many cheap moves the front office has made for aging veteran players the past few off-seasons. While Kipnis' torrid start to 2020 was unsustainable — and buoyed his overall numbers in a 60-game sprint — he provided value the team needed where, say, a Daniel Descalso never could.
While it's fair to lament the reality the Cubs could have signed DJ LeMahieu on-the-cheap a few years back if ownership was not so stingy, Kipnis deserves credit for his work in 2020. He might have struck out too much (30.4 percent), and certainly was streaky, but he provided competent defense while serving as a mentoring presence to the young Nico Hoerner.
Grade: B
Nico Hoerner (2B): .222/.312/.259, 0 HR, 63 wRC+, 0.3 fWAR
Nico's first "full" season was a bit of a struggle. While we witnessed an increase in walks, and a decrease in chasing pitches out of the zone from his brief stint in 2019, his offensive profile has yet to mature fully. Showing zero power, with a laughable slugging percentage, Nico's bat was 37 percent worse than league average.
Defensively, however, he was brilliant, providing well above-average glovework at the keystone while also proving adept at handling short as needed.
Nico needs to develop more power, and even if he sacrifices his noted bat-to-ball skills in the process, the trade off is worthwhile. This wasn't a quality season, but I've little concern for his long-term value for the Cubs.
Grade: C-
Javier Baez (SS): .203/.238/.360, 8 HR, 57 wRC+, 0.0 fWAR
I'm not going to dwell much on Javy. This was the worst offensive campaign of his career (excluding his rookie season), and while we know he struggled without the use of in-game video to make adjustments, it's hardly an explanation for his atrocious numbers.
In good news Javy will only be 28 next season, and he continued to provide amazing defense at short. Call this year a wash and expect him to have a chip on his shoulder as he plays for that long-term contract extension in 2021.
Grade: F
Kris Bryant (3B): .206/.293/.351, 4 HR, 76 wRC+, 0.5 fWAR
Bryant is unfairly maligned by Cubs fans that pretend he's done nothing since 2017. In 2018-2019 combined he hit .278/.379/.476 with a 131 wRC+, good for 7.1 fWAR. While those numbers don't quite reach the elite stats he put up in 2017, or his MVP '16 season, they are terrific nonetheless.
Alas, we are focusing on 2020, where nagging injuries limited KB's playing time while contributing to a severe regression at the plate. His defense was adequate despite the injuries, and long-term I still think he'll be a big threat at the dish — even if not for the Cubs.
Still, 2020 was nothing short of a disappointment.
Grade: F
David Bote: .200/.303/.408, 7 HR, 92 wRC+, 0.4 fWAR
Bote is the Cubs' main infield utility piece and pinch-hitting option, a role he dutifully fulfilled in 2020. His BA and OBP leave much to be desired, but he hit with power (.208 ISO) to a degree that made him a near-league average performer offensively.
Bote, like Rizzo, posted walk and strikeout numbers consistent with his career while suffering from some extreme bad luck (.228 BABIP). Overall, it's hard to be too upset with Bote's performance relative to his role with the club.
Grade: C+
---
Outfield
Kyle Schwarber (LF): .188/.308/.393, 11 HR, 90 wRC+, 0.4 fWAR
As with the rest of the Core, Schwarbs had a frustrating season. The power was clearly present, but his bat still played at a level that was 10 percent below league average. Like others, he suffered from some bad luck (.218 BABIP), yet he also hit ground balls and pulled the ball at rates that are alarming compared to career norms.
His defense was unsurprisingly 'meh', not a good look from a player that produced a wRC+ of 120 last year, leaving many to believe he finally turned the corner offensively.
Entering his contract year, he's a player that needs a big rebound after a disappointing season.
Grade: C-
Ian Happ (CF): .258/.361/.505, 12 HR, 131 wRC+, 1.9 fWAR
Early on, Happ surprised the baseball world with an MVP-worthy performance. He struggled down the stretch, to be sure, but he still performed admirably in the two playoff losses, and overall, he established himself as a viable leadoff hitter and center fielder. Finally portraying the skills the Cubs imagined he might display, he had his best season as a full-time big leaguer, and the best of Happ's abilites have probably yet to fully show.
Happ hit from both sides of the plate, offering the Cubs a legitimate power threat at the top of the order while reaching base at a well-above average clip. The slump he endured should be considered as commensurate with any hitter's struggles in a full-season, but because of the 60-game sprint, that slump negatively impacted his performance exaggeratively.
Should Happ follow-up in 2021, the Cubs will be happy.
Grade: A-
Jason Heyward (RF): .265/.392/.456, 6 HR, 130 wRC+, 1.8 fWAR
What a revelation Heyward was this year. A player resigned to being a defensive-first, albatross-of-a-contract type player, Heyward had undoubtedly his best offensive season on the Northside, producing a bat 30 percent better than league average.
Offense was not expected from JayHey heading into the season, yet he provided that in spades. His defense slipped some, yet was still above average, and he continued to run the bases in an efficient and underrated manner.
If his contract weren't so large this would be an easy 'A' grade, but as it goes, that takes a toll on his overall grading.
Grade: B+

Cameron Maybin (OF): .250/.304/.365, 0 HR, 81 wRC+, 0.1 fWAR
Maybin had just 56 AB's as a Cub, but I'm adding him because of the enormous effect he had on the club.
None of his numbers stand out, yet his late-season addition to the club was a welcome relief. He stole three bases in a limited role, played all three outfield positions, and provided the offensive production you'd expect from a veteran spot-starter/defensive replacement. Maybin was a joy to watch play, and if the Cubs can get him on the cheap for 2021 in the same capacity, he'd be a great fit for a team trying to maintain its waning competitive window.
Grade: B+
---
Featured Photo: Armando L. Sanchez, Chicago Tribune
All stats courtesy of Fangraphs unless otherwise indicated
---