I can't remember a time when the Cubs bullpen excited fans. Long a maligned unit, the 2020 iteration was no exception. Craig Kimbrel's early-season struggles exacerbated the angst, and while he eventually settled in and had a dominant late run, the overall confidence in the unit was 'meh' at best.
The past few off-seasons have witnessed a flurry of activity from the front office to (try to) address the 'pen. Aside from the three year, $43 million deal for Kimbrel in 2019, these moves have been ancillary in nature. Signing veteran arms to minor league deals in bunches and hoping someone clicks isn't an ideal method, but with the existing budget constraints it's an understandable strategy.
Some names have stood out. Rowan Wick followed his 2019 campaign with a terrific 2020, Jeremy Jeffress was a gem of a find (and hopefully returns in 2021), Ryan Tepera was solid, and Jason Adam — who is under team control for several years — showed a lot of promise.
Kyle Ryan struggled mightily, however, and his lefty counterpart, Brad Wieck, spent the year on the IL. Righty Dan Winkler was effective (with alarming peripherals), and long-time prospect Duane Underwood Jr. showed promise but remained inconsistent — the shuttle between South Bend and Wrigley a steady flow of question marks.
Overall, the 2020 'pen authored varied stats. They ranked fourth in strikeout percentage (27.8), yet 27th in walk rate (12.1). A pedestrian 4.38 ERA (4.45 FIP) resulted, with a HR/9 (1.35) that ranked 21st, even with a ground ball rate (43.9) that was good for ninth.
Kimbrel and Wick are a nice backend duo, and the return of Jeffress would be ideal. They would be wise to spend on a lefty, however, which is where the list below will focus. It wouldn't hurt to kick the tires on some veteran righties as well, but given the current bullpen structure, a lefty should be the priority.
Relievers are notoriously volatile, of course, any multi-year deal an exercise in risk management. That said, the Cubs should be aggressive in the market for lefties this winter. Neither Ryan nor Weick inspire confidence at this point, Brailyn Marquez should continue to be prepped as a starter, and the mystery of Burl Carraway's readiness remains.
Let's take a look at some lefty arms the Cubs could realistically pursue.
Note: As with starting pitchers and contact-hitters, the Cubs' options in the free agent market will be limited with respect to relief arms. With no certainty as to where (and how much) the Cubs might spend in free agency, the safe bet is that the bullpen will have the smallest budget. Therefore top-tier arms (Brad Hand, Blake Treinen, Liam Hendricks, Trevor May, Trevor Rosenthal, et al) are disqualified from this list. Other capable lefties (Jake McGee, Sean Doolittle, Justin Wilson) are excluded, as they'll each likely receive an AAV of $5 million or more, a number unrealistic for the Cubs this winter for a reliever. Below is a composition of names the Cubs might actually have the means to sign.
Of the attainable free agent arms available, Loup is my top target for the Cubs. The long-time Blue Jay spent the 2020 season with Tampa Bay (after cameos with the Phillies and Padres in 2018-2019), posting excellent results as a key member of the league's best relief group: 25 innings, 2.52 ERA (3.83 FIP), 22.9 K%, 4.2 BB%, .191 BAA, 0.2 fWAR. Making nine appearances in the postseason, he also had a 3.38 ERA (2.25 FIP), proving the ability to pitch in tenuous situations.
The soon-to-be 33 year old was a bit lucky this season, with a career-best .219 BABIP markedly below his .304 rate since 2012. Oddly, his ground ball rate this year (39.7%) was well below his career average (53.4%), rendering these two peripherals a product of the awkward 60-game season that was 2020.
Far from a flame thrower, Loup relies on a low-90's fastball, along with a cutter, slider, and changeup. His arm slot is of low three-quarter/sidearm fashion, providing further elusiveness and variety. His career splits suggest he's better against lefties, but righties haven't exactly lit the world on fire against him (.264/.332/.424), making him a viable arm in the new world of three-batter minimums.
All told the veteran lefty would slot in quite nicely for the Cubs, taking pressure off Ryan, allowing Wieck to fully recover, and pumping the brakes on rushing Carraway to the majors.
Coming off a one year, $1 million deal with Tampa, Loup should command a raise without breaking the bank. A two year, $4 million deal is reasonable.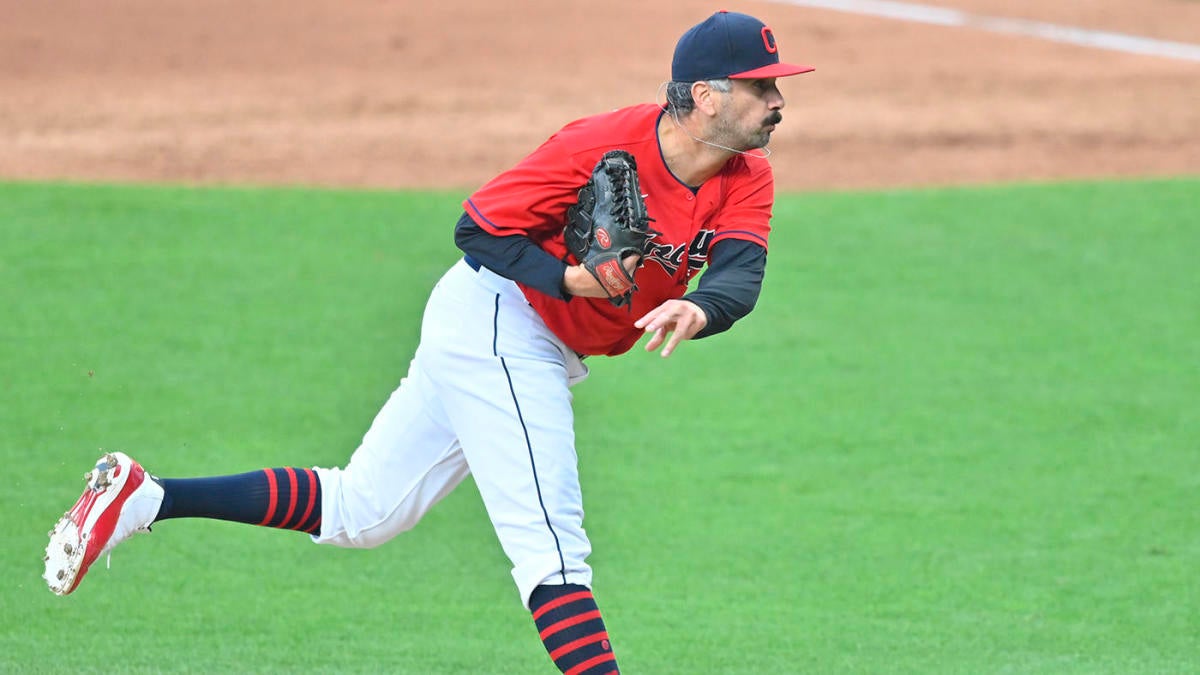 The ageless wonder had a terrific 2020 campaign in Cleveland, with a 2.00 ERA (3.14 FIP), 19.4 K%, 8.3 BB%, .206, BAA, 0.4 fWAR. The 39 year old has fairly pronounced career splits, with righties hitting .248/.352/.426 against him, whereas lefties have hit a meager .227/.310/.357.
A starter early on in his career, the journeyman has spent a decade as a reliever, and has done so quite effectively. As a reliever, he has a career 3.65 ERA (3.48 FIP), surrendering a .238/.325/.374 slash in 360.1 innings.
Pérez had a $3 million option vest in 2020, but enters free agency with several quality lefties available, a depressed market for players, and yet another year tacked onto his 18-year career. I believe he'll be had on a one year deal, one that shouldn't exceed $2 million.
An unheralded name, Álvarez has quietly been an effective reliever for the better part of a decade. Most recently with the Phillies, he spent several years with the Angels, owning a career 3.59 ERA (3.73 FIP), 20.8 K%, 7.5 BB%, .292 BAA.
Turning 32 next season, Álvarez is recovering from a rather unfortunate injury, extending the questions about him leading into the 2021 season. His repertoire mirrors that of Loup, a low-90's fastball complimented with a slider, cutter, and change — even if his delivery is more of a traditional, high three-quarter slot.
Álvarez enters free agency after a pre-Covid salary of $2.95 million in 2020, representing the upper echelon of what the Cubs might spend on a reliever this offseason. As far-fetched as it might be, I wonder if a two year, $6 million deal would do the trick (with a portion of his salary backloaded to 2022).
Quality Options Are Limited
Other lefty options exit in the likes of Robbie Erlin, T.J.McFarland, and Fernando Abad (and more!), but injuries and ineffectiveness makes this far from appealing. If the Cubs are to sign a lefty in the open market my hope is that it's a relative sure-thing, rather than roll the dice with a minors deal and invite to Spring Training.
Kyle Ryan could very well rediscover his velocity (and form), Brad Wieck might return from injury with a chip on his shoulder, and Burl Carraway might debut in 2021 on fire — never looking back.
These are all best case scenarios, however. It'd be prudent for the Front Office to give David Ross an established lefty to utilize, if only to hedge their bets.
---
All stats courtesy of Fangraphs.
Featured Photo: Sean M. Haffey, Getty Images
---