The Chicago White Sox entered the offseason with a handful of clear holes to fill if they hoped to top the success of their first playoff berth since 2008, in 2021. They addressed the top-end of the rotation by trading for Lance Lynn back in early December, and then signed Adam Eaton to replace Nomar Mazara the next day.
The White Sox also got busy on the international market, signing Cuban outfielder Yoelkis Cespedes ($2.05M), Cuban right-handed pitcher Norge Vera ($1.5M), and Venezuelan infielder Victor Quezada ($525K) of note, insulating their farm system with international talent.
So, what's left?
While the White Sox roster is most certainly a candidate for the best in the American League, as I wrote on Thursday, there's still room for improvement before Spring Training opens up on February 17.
While many hope that the White Sox have another big splash in them this offseason, I doubt that is on the horizon. Instead, the White Sox will now likely turn to smaller signings that round out the roster and create depth for the 2021 ballclub.
On Friday morning Future Sox reported that the club signed former Philadelphia Phillies right fielder Nick Williams to a minor league contract, adding another left-handed hitting outfielder to the mix as a fail-safe for the oft-injured Adam Eaton.
Williams, 27, did not play in 2020 and struggled in 2019 for the Phillies, but hit 29 home runs with 105 RBI and a wRC+ of 105 in 223 games during the 2017-18 seasons with the Philadelphia. Williams will almost surely receive a non-roster invitation to Spring Training next month, and these are the signings that I think we will see from the White Sox over the next four weeks.
Rotation Depth
As it stands, Lucas Giolito will be followed by Lance Lynn and Dallas Keuchel in the rotation to open 2021, and Dylan Cease will assume the fourth spot in the rotation. As for the fifth spot, that's still unclear. Michael Kopech will return to the mound this spring — and according to new White Sox pitching coach Ethan Katz, is ready and has been working all winter — but will likely start the season in Triple-A after not pitching in a regular-season game since September 2018.
Reynaldo Lopez is back and has been working with Katz already this offseason. If Kopech does indeed start the season in Triple-A, Lopez could be a candidate to start the season at the bottom of the rotation until Kopech is deemed ready. Of course, we aren't really even sure if there will be a minor league season, so there's another dash of uncertainty to that situation.
Regardless, the White Sox would be wise to add one more veteran starting pitcher to the mix because as we all know, there will be uncertainty with Kopech/Lopez, and unfortunately there will be injuries.
One name that has been floated is former Los Angeles Angels and San Diego Padres pitcher Garrett Richards. Richards is in line for a projected $8 million AAV according to FanGraphs' Free-Agent Tracker. Richards — who will turn 33 this season — had a really good five-season stretch with the Angels from 2014-2018 that included a 3.15 ERA (3.38 FIP) over 514.2 innings of work (86 starts). After missing nearly all of 2019, Richards made 14 appearances (10 starts) for the Padres last season, tossing 51.1 innings to the tune of a 4.03 ERA.
Tony La Russa's former pitcher Adam Wainright is also available in the same price range as Richards and could be a strong veteran presence with winning experience at the bottom of the White Sox rotation. Wainright posted a 3.15 ERA in 10 starts (65.2 IP) for St. Louis in 2020, and as White Sox fans remember from his performance against the high-powered Sox offense last summer when he allowed only one run on two hits in five innings, he still has a little left in the tank.
Backup Catcher
Zack Collins is the next man up in the current roster construction after James McCann departed for Queens last month, but I'm not sold on the 2016 first-rounder quite yet. Collins' major league playing time has been limited the last two seasons with McCann and then Grandal in front of him on the depth chart, and he hasn't exactly impressed when he has been given opportunities.
With a full 162-game schedule on the horizon in 2021, Grandal will be asked to catch 130-140 games this season, leaving 22-32 starts behind the dish to the backup. I'd feel more comfortable with a veteran like Yadier Molina, or Tyler Flowers handling that workload. Beyond the assumed automatic workload for the backup catcher, and as I noted above with the starting pitching depth, injuries happen.
Molina has the connection to La Russa but has said that he's looking for a two-year deal, and would consider retiring if he didn't get it. Molina would cost the White Sox somewhere in the ballpark of $10-12 million per but would bring a Hall of Fame resume and a World Series pedigree to the table.
Tyler Flowers would likely cost a third of that but isn't Yadier Molina, so there's a trade-off with the discounted price to consider. Veterans like Kurt Suzuki and Jason Castro are also available as of today and would be comparable to the Flowers price range.
This would be my last priority of the trio we're discussing today, but one I would hope the White Sox explore nonetheless.
Bench
Assuming Zack Collins is the backup catcher, and Adam Engel and Leury Garcia take two spots on the bench, that leaves the White Sox with 1-2 holes to fill before Opening Day outside of the eight position players locked into their everyday roles. One will be the DH spot in the lineup, and one will be a bench role.
Andrew Vaughn has been discussed as the fill for the DH spot for the large part of the season, but it's conceivable that he won't break camp with the team, leaving that spot to fill on Opening Day. I personally don't like a player who hasn't seen a competitive at-bat beyond Winston-Salem being counted on to be an everyday player on a team competing for a World Series.
White Sox special assistant to the GM, Nick Hostetler — who drafted Vaughn when he was still the director of amateur scouting in 2019 — told me in December that Vaughn has the makeup to make the leap this season, more so than any other prospect he's scouted. I trust the word of Nick Hostetler, but it's still a scenario that makes me weary.
Even if Vaughn is the DH for much of the season, that leaves one bench spot and a DH to open the season up for grabs. Nick Williams might have a sniff at things in camp this spring, and the White Sox may give consideration to Yermin Mercedes for at-bats in the DH role to open the season, but there's still uncertainty there.
If the White Sox add another bat between now and Glendale, they'd be wise to add a left-handed hitter who's had success against right-handed pitching, a glaring weakness for the White Sox in 2020.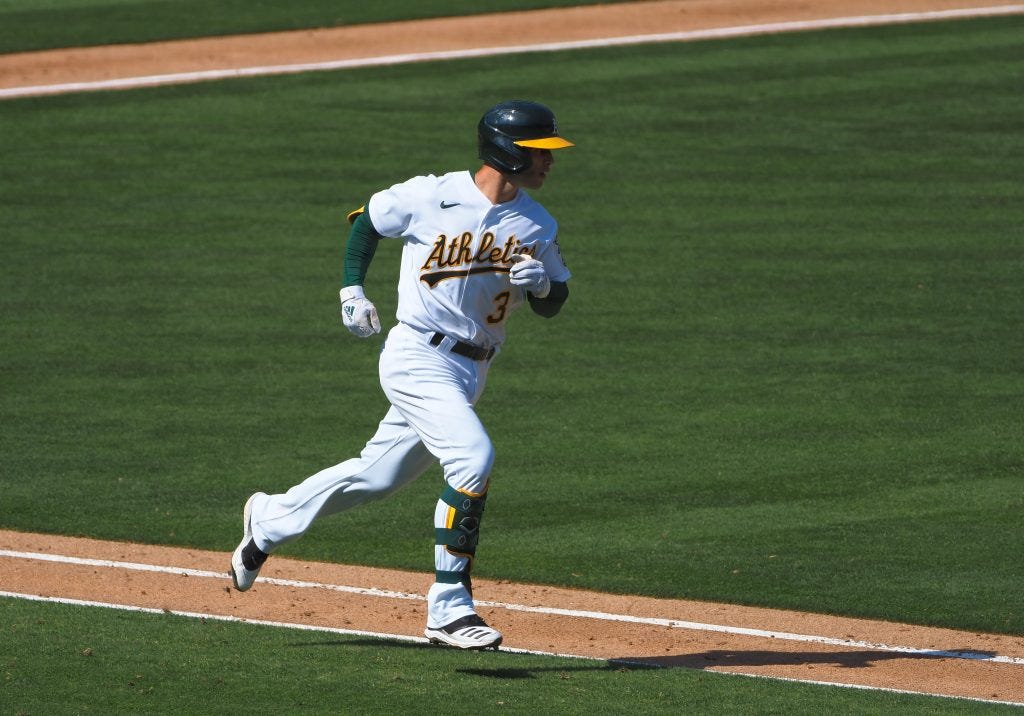 Tommy La Stella fits that description at the plate, and he can play a multitude of spots around the diamond and in the outfield. Entering his age-32 season, La Stella will command roughly $7M AAV according to FanGraphs, something the White Sox can afford.
La Stella split time between the Angels and Athletics in 2020, logging 55 games while slashing .281/.370/.449 with five home runs and a 129 wRC+. La Stella would be a perfect addition to this roster. He can hit right-handed pitching, he can absorb the DH at-bats until Vaughn is ready — if that indeed ends up being the plan — and then he can play the super-utility role for the rest of the season. At that point, the White Sox would have a pair of versatile bench players that can play all over the field in La Stella and Leury Garcia, with Adam Engel as a true fourth outfielder, a role suited perfectly for him.
The White Sox have done well this winter, and by many accounts, they've positioned themselves to win their division and be considered a favorite for the American League pennant. That being said, if they want to bring the most complete roster possible to the table in 2021, there's still room for improvement.
Featured Photo: Joe Camporeale-USA TODAY Sports