Standing just 5-foot-8, Nick Madrigal brings a larger than life energy to the Chicago White Sox. In 2020, after a few games in waiting, Madrigal was able to bring his passion and game to the major league level. Prior to the 2020 season, Nick Madrigal was a star infielder for the Oregon State Beavers. His performance on the field earned him several accolades and honors including PAC-12 Freshman of the Year, PAC-12 Player of the Year, and a College World Series Championship.
Upon wrapping up his college career, the White Sox's 2018 first-round pick (fourth overall) played across three separate levels of the minors in 2018 — From the AZL White Sox to the Winston-Salem Dash. The organization liked what they saw in Madrigal so he returned to the Winston-Salem team in 2019 before making another jump to Double-A in June, and eventually finish the season in Charlotte with the Triple-A Knights.
With the uncertainty of the pandemic and the eventual cancellation of the 2020 MiLB season, the White Sox kept Madrigal close. Over 163 minor league games, Madrigal hit .309 with 194 hits, 43 extra-base hits, 71 RBI, 51 walks, 43 stolen bases, just 21 strikeouts, and a .371 on-base percentage.
The White Sox did not have him on the Opening Day roster but after six games played, Madrigal made his debut. Madrigal went hitless in three at-bats in his first game on July 31. Hitless games would become a rarity for him. He did miss some time during the 2020 season because of a shoulder injury back on August 4 but would return. He ended up hitting .340 with 8 runs and 11 RBIs in 29 games. He also had 11 multi-hit games during his rookie season.
This past September, I spoke with one of his former coaches from his road to the big leagues. I spoke with Pat Bailey who was the assistant coach at Oregon State when Madrigal played at OSU. And a couple days later, I chatted with former major leaguer Wes Helms. Wes Helms was the bench coach for the Double-A Birmingham Barons while Madrigal was on the team in 2019, and is now the manager of Charlotte Knights.
Both had high-praise for Madrigal and what he brings to the White Sox. Pat Bailey even said, "It doesn't surprise me one bit that he was the number one [White Sox] pick and it doesn't surprise me that he's already out there, and it doesn't surprise me what he's already doing."
Below are parts of both the Pat Bailey's and Wes Helms' conversations transcribed.
A Conversation with Oregon State's, Pat Bailey
Xavier Sanchez, The Dugout: What was your first impression of or introduction to, Nick Madrigal?
Pat Bailey, Oregon State: "I think the first time I saw Nick play was in Arizona when he was a freshman. He played for NorCal Baseball. Two things that I saw that really stuck out the first time I saw him play, and every time I saw him play, was just his passion for the game and his baseball IQ. His baseball IQ is off the chart."
XS: When he came to Oregon State, was it expected he was going to be a starter right away?
PB: "That's a question that gets answered based on a guy's performance once they get here. I mean, we thought he was going to start for us right away. But he earned that spot, it wasn't given. I can tell you that right now," Bailey said.
XS: What are some of the other ways that helped make him that everyday player for Oregon State?
PB: "If I can give you an analogy, [he's like] a basketball player who has unbelievable court awareness. He just knows everything that is going on. You rarely see guys like that in professional basketball or college basketball. Michael Jordan was one of those guys. I am not comparing him by saying he's going to end up like Michael Jordan, but I'm telling you his [Madrigal's] awareness on the field when he's playing defense and some of the plays he makes you just shake your head and just go, 'oh my gosh, I just can't believe he's so aware to make that play."
XS: Are there any other games you recall during his career that will always stick?
PB: "Yeah, when he was a freshman. We were playing UCLA and his first couple at-bats he got beat inside. He asked me, "Bails, they're beating me inside." He says, "What do I do?" And I go, "Nick, wait and play a little bit and sit on an inside pitch." So he goes up on his next at-bat and hits a home run. In his fourth at-bat, he goes "What do you think [UCLA Head] Coach Savage will do?" I said, "Well, I have been in this league now for ten years, or nine years, eight years, or whatever it was." I guess it was in 2016, his first year. I said, "Coach Savage is going to throw you inside again because he's going to think that you aren't going to get an inside pitch because you smoked the last one." So I said, "Sit on an inside pitch again." When he left for the plate, I thought, "Oh my gosh, I hope I gave him good advice." He hits a double off the wall, and it was the last time Coach Savage threw him inside the rest of the series.
"It's one of those things where, you can tell a guy to do that, but it's another thing for him to execute it," Bailey said. "He [Madrigal] wasn't a home run hitter. I don't know how many home runs he hit at Oregon State but I'm going to guess it was three, maybe. He's just a special player. He is really tough-minded, but he's a great guy and a great teammate."
XS: One of the things that I have noticed throughout college, his time in the minors, and this year even is his ability to not record as many strikeouts. Why do you think that is? What are some of the approaches as a coach and player to help that happen?
PB: "Well, I'll tell you why Nick doesn't strikeout out," Bailey said. "Because he has unbelievable hand-eye coordination, as good as I've ever seen. I think Nick would have hit over .400 at Oregon State if he would have been a little more patient at the plate, and just looked for his pitch to hit, because when he swings, even when it's a pitch that he doesn't hit really well if he swings at it, he's going to make contact.
"He's got great hand-eye skills. The negative part about that is whatever he swings at he's going to make contact with most of the time, and sometimes, he makes we contact because of bad swings decisions. If that makes sense."
XS: Last thing here, is there anything that you remember or that you think is worth sharing that many don't know about Nick.
PB: "For me, the human being that he is, he is such a great young man," Bailey said. "He's a committed Christian, he loves the Lord, and he's just a complete person. He's a wonderful young man. He's really confident, yet really humble."
A Conversation with Charlotte Knight's Skipper, Wes Helms
Xavier Sanchez, The Dugout: What was your first impression of, or introduction to Nick Madrigal?
Wes Helms: "Last year in Spring Training was really my first introduction. But I wasn't really with him a lot because he was going to go to Winston-Salem to start the season. So that was my first introduction and then of course, when he got called up to Birmingham last year was my formal introduction and that was when I got to know him more as a player and got to work with him and everything."
XS: What were some of the first things that you noticed in his game that you were impressed with?
WH: "The biggest thing that stood out to me was his instincts about the game," said Helms. "The little things that stand out about how he sees the game, how it almost seems like he's seen the game before it happens, and just his knowledge about being a baseball player. He has those tools that are instilled in him."
XS: In speaking with other people, they seem to talk about his baseball IQ, and how him being smaller he might have tried to find different ways to be able to fit in the game.
WH: "For sure, especially at the pro level," Helms said. "It's big, it's strong as most the guys are. To be a smaller kid in, pretty much a powerhouse of a league, being in the pros you've got to do the little things to stand out. You're not going to stand out by hitting homers, you're not going to stand out having a plus-arm, or whatever."
XS: Nick only played a season and a half in the minors; was there any worry it was going to be a difficult jump, and while watching him in the majors, what have you noticed?
WH: "[To] me, a minor league kid needs to have good, many at-bats to be comfortable in his game. Nick was kind of different. He was kind of into his own, even in his last year of college. He's still basically the same player. So he kind of learned it early. So I really wasn't that worried about him just because he's not a guy that goes up there [home plate] and just swings. He's not a kid that plays the game just on raw talent."
XS: That's something I've noticed. He has like 22 hits and just 2 doubles. Lots of singles but that's what he's perfected and does well.
WH: "He is, and that goes back to me saying, "he knows the player he is." He knows that's who he is and he does not try to do anymore. He just stays in his lane and he does the things that's going to help the White Sox win. He's a gamer, he's a competitor, and it stands out."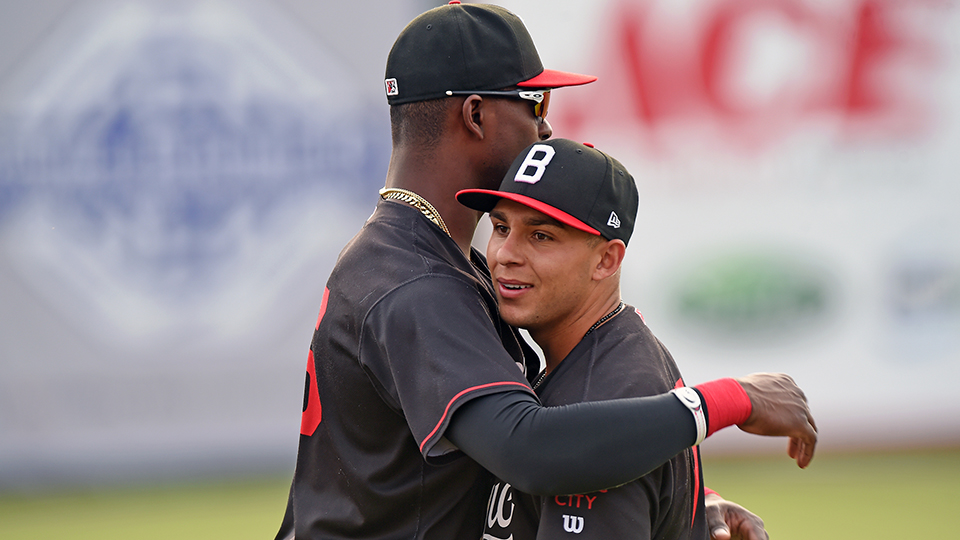 XS: One of the things that you talked about with him at the plate was his ability to keep his strikeouts low. I don't know if you watched much this year but in the past what are some things that players do either when watching the balls come in or other adjustments they make at the plate whether they move back, move up, adjust their bat, etc. What have you noticed with him?
WH: "The biggest thing with Nick is [that] he has a gift which is when he swings the bat, he barrels baseballs. He hits it, he doesn't swing and miss. I think his swing and miss percentage was three or four percent. Like, that's unheard of. That is one of his strengths but that is something that can hurt you, and that is where Nick got in trouble last year, and even this year early in Spring Training.
XS: With respect to the manager right now of the White Sox, ideally, where would you place him [Madrigal] in the lineup? Some people like him at nine, some like him at the top of the lineup, or behind certain people. Where would you want to put him?
WH: "For me, this is perfect for him this year. Because young players sometimes when you put them at the top of that lineup, some guys can handle it, some guys can't, and some guys put pressure on themselves. To be honest with you, one through nine is a batting order. To me, there should be pressure on you no matter where you hit. You should still be the same hitter you normally are. You shouldn't try and do anything different just because you hit first, or hit ninth, or you hit fifth or sixth. Be the hitter you are. But in the reality of things, hitters put that pressure on themselves. If a hitter is hitting seventh or eighth and he starts doing well and the manager moves him to say third or fifth, they start putting more pressure on themselves because that is the meat of the lineup. It's true but right now I think where Nick is, is good for him."
XS: Since watching him, has there been a certain game that you'll always remember or a moment in his young career that stuck with you?
WH: "This year in Birmingham — I can't remember exactly the game or whatever, but I think he got like four hits and he hit a ball to all parts of the field," Helms said. "Like the first inning, he pulled one. The next inning, he hit one down the right field line. The next inning, he hit one in the gap. I think that's when it stood out to me that this kid can hit to all fields."
XS: That reminds me, this season he was at the plate and he swung at a higher pitch but he poked it right over second base, dead-center, and I was like, "not many people can get that pitch." That's what he showed that day.
WH: "Yes, that kid can hit a pitch at [the] neck, and can hit a pitch that almost bounces. It's impressive what he can do with a bat."
XS: Anything else worth mentioning or sharing about Nick as a player, or as a person?
WH: "The biggest thing for me is he comes everyday to win and he comes everyday to prepare himself. There is never a day that you can say, "Nick didn't do what he was supposed to do today." He shows up, has his routine, doesn't veer off his routine with his catch work, his ground balls. He's a baseball guy through and through. When he walks through the stadium doors until he leaves through the stadium doors to go home it's one hundred percent locked into his skillset and helping the team win."